Elevate Your Pet Parenting: Airtag Compatible Dog Collars for Responsible Owners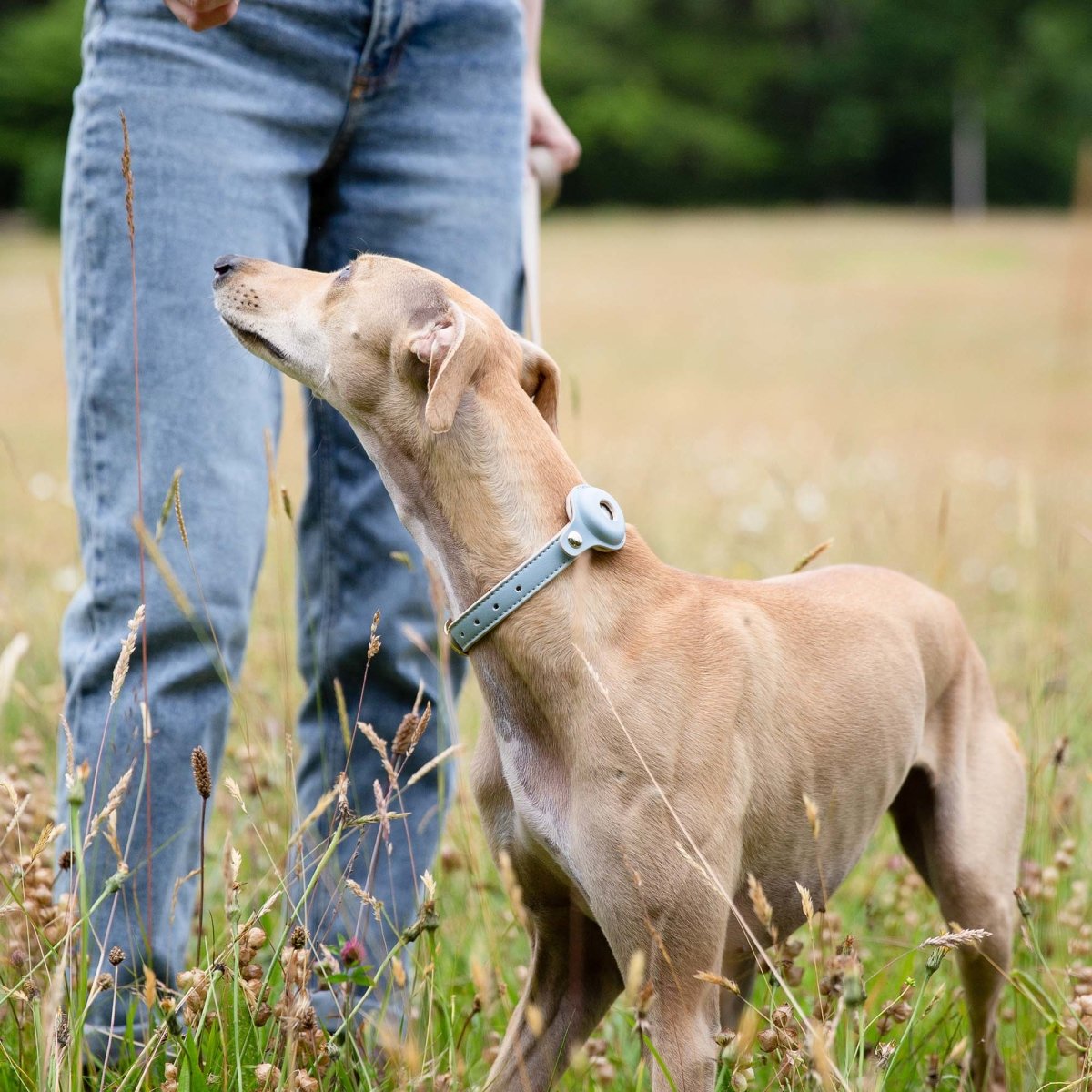 In an ever-evolving world where technology and style often blend, being a pet owner isn't just about feeding and walks anymore. As a responsible and conscious pet parent, you are always on the lookout for the best products to enhance not only your pet's life but yours as well. Enter Airtag compatible dog collars, an innovation that marries style, safety, and convenience, proving to be a game-changer for pet owners across the globe.
Why Choose Airtag Compatible Pet Collars?
Being a pet parent is a job of enormous responsibility. It's about being there for your furry friend, offering comfort, love, and security. It's about ensuring they are healthy, active, and safe. However, we live in a busy world, and sometimes, ensuring that our pets are always safe can be a stressful task. This is where Airtag compatible pup collars come in. They are a revolutionary addition to a pet parent's arsenal. But why should you specifically opt for an Airtag compatible dog collar? Let's delve deeper into the many reasons.
Ease of Tracking with Air Tag Collar for Dogs
Pets are curious creatures, especially dogs. They love exploring their surroundings, often wandering off into areas where they could potentially get lost. While it's crucial to give them their freedom, it's equally important to ensure their safety. This is where the Apple Airtag technology shines.
The Airtag is a small, coin-shaped device that can be attached to your pet's collar. It uses Bluetooth technology to connect with your iPhone, allowing you to track your pet's whereabouts through the 'Find My' app. If your pet gets lost, you can quickly locate them on a map.
What's more, the Airtag also has a Lost Mode. When activated, it sends out a secure signal that can be detected by any nearby Apple device, even those owned by other people. If someone comes across your lost pet and they have an iPhone, they can tap it on the Airtag to bring up your contact details.
This ease of tracking not only ensures your pet's safety but also offers you peace of mind. As a pet owner, nothing is more distressing than losing your pet, even if it's just for a few minutes. With an Airtag compatible dog collar, you can always keep a watchful eye over your pet, no matter where you are.
Stylish and Comfortable
Being a pet parent doesn't mean you have to compromise on style. Airtag compatible pet collars are not just functional; they are a fashion statement. They come in a variety of designs and colors, allowing you to pick one that best suits your pet's personality or your personal aesthetic. Brands like Nina Woof even offer premium vegan leather collars that are both fashionable and cruelty-free.
However, these collars are not just about looking good. They are designed with your pet's comfort in mind. High-quality Airtag compatible collars are lightweight, ensuring that your pet is not burdened by the weight of the Airtag. They are also adjustable, allowing for a perfect fit regardless of your pet's size.
Durability
Dogs love playtime. They will run, jump, roll around, and get into all sorts of mischief. In these instances, you need a collar that can withstand all this activity while keeping the Airtag securely in place. Most Air tag pet collars are made with durable materials that can handle your pet's adventures.
Integration with Technology
We live in a world where technology makes our lives easier. As pet owners, why shouldn't we make use of this technology to make our pets' lives better too? With airtag dog collar, you can do just that.
The Airtag and collar combination works seamlessly with the Apple ecosystem. If you have an iPhone, you can easily set up and start using the Airtag in just a few steps. And since the Airtag uses low-energy Bluetooth technology, it has a battery life of over a year, which means less hassle for you.
How AirTag Dog Collar Work
Airtag dog collars are the latest innovation in pet safety, taking advantage of Apple's cutting-edge technology to help keep your furry companions secure. If you're not familiar with how these innovative collars work, don't worry - you're about to find out. This comprehensive guide delves deeper into the functionality of Air tag dog collars, providing the knowledge you need to use this technology to its fullest.
Understanding the Basics: What is an Airtag?
An Airtag is a small, coin-shaped device developed by Apple. Its core function is to harness the power of the global Find My network to locate misplaced items. Each Airtag has a built-in speaker that plays a sound to help identify its location, and it uses Apple's U1 chip (found in iPhone 11 and later) for precision finding. This chip uses Ultra-Wideband technology for more accurate tracking.
This impressive technology, while primarily designed for items like keys or bags, has quickly found utility in pet tracking, revolutionizing the way dog owners monitor their pets.
Integrating Airtag with Dog Collars
The integration of Airtag technology into dog collars brings pet tracking to a whole new level. But how does it work?
To use an Airtag with a dog collar, you must first pair the Airtag with your Apple device. This is as simple as bringing the Airtag close to your iPhone or iPad, tapping the connect button, and then assigning it a custom name or default name, such as 'Dog's Collar'.
Once the Airtag is paired and securely placed in the collar's dedicated holder, you're all set. You can now track your pet using the Find My app on your Apple device, ensuring your pet's whereabouts are just a few taps away.
How Does the Airtag Function Within the Dog Collar?
The main function of the Airtag in a dog collar is to track your pet's location. The Airtag sends out a secure Bluetooth signal that can be detected by nearby Apple devices in the Find My network. These devices send the location of your Airtag back to Apple, which then relays the information to your device.
For example, if your dog runs away and another iPhone user walks by them, their iPhone can pick up the Bluetooth signal from your dog's Airtag and relay the location to you, all while keeping everyone's data safe and private. This crowd-sourced network is vast and virtually ensures that your pet can be located no matter where they are.
In the unfortunate event that your dog goes missing, you can put the Airtag into Lost Mode. Once in Lost Mode, if someone else's device picks up your Airtag, they can use their device to learn that your pet is lost and how to contact you.
Moreover, the Airtag in the Lost Mode will automatically send a notification if it is detected by the Find My network, giving you the current location. It provides a valuable tool for dog owners, increasing the likelihood of a lost pet being returned safely.
The Role of Privacy and Security in Airtag Dog Collars
Apple has designed Airtags with a strong focus on privacy and security. While the Airtag broadcasts a Bluetooth signal, this signal is frequently changing, preventing unwanted tracking. The location data relayed through the Find My network is encrypted end-to-end, meaning that no one, not even Apple, knows the location or identity of any of the participating users or devices.
Furthermore, if an unknown Airtag is found moving with a person, Apple will send an alert to the person's iPhone. This alert system is another layer of security preventing anyone from using an Airtag to track another individual without their knowledge. This feature might not directly pertain to your pet, but it demonstrates the thoroughness of Apple's commitment to privacy and security.
It's also important to mention that only you can see where your Airtag is. Your location data and history are not stored on the Airtag itself. Any interaction with the Find My network is completely anonymous, and your location data is protected with a unique encryption key that changes frequently.
Keeping the Airtag Functional in your Pet Collar
Ensuring the Airtag remains functional is crucial to keep your pet safe. For the Airtag to work optimally, it needs to be within range of a device that is part of the Find My network, so be aware that its effectiveness can vary depending on your geographical location.
Battery life is another aspect to keep in mind. The Airtag uses a standard CR2032 battery that Apple states should last over a year. Fortunately, the battery is user-replaceable. The Find My app will notify you when it's time to replace the battery, ensuring the Airtag remains active without interruption.
Practical Use of Airtag Dog Collars
Now that we understand the technology and how it works, it's important to focus on the practical use of Airtag dog collars.
One of the main advantages of Airtag dog collars is the peace of mind they provide to dog owners. While a traditional collar can hold an ID tag with your phone number, an Airtag collar provides a more sophisticated level of security. If your pet ever wanders off, you'll be able to find them quickly and easily using your Apple device.
In addition, the Airtag collar offers an enhanced level of detail for tracking your pet. With an iPhone 11 or newer, you can use Precision Finding, a feature that combines input from the camera, ARKit, accelerometer, and gyroscope to guide you to your pet. It provides directions, distance, and even an arrow pointing to the Airtag's location.
Nina Woof: Combining Style, Responsibility, and Technology
At Nina Woof, we believe in creating products that are stylish, eco-friendly, and, most importantly, loved by your pets. Our Airtag compatible dog collars are an epitome of this philosophy.
Our 'Cupertino' vegan leather dog collar is designed for comfort, durability, and style. The in-built Airtag holder is crafted to keep the Airtag securely in place while your dog runs, plays, or lounges. And the vegan leather ensures that no animals were harmed in the making, aligning with our commitment to being cruelty-free.
As a pet parent, your choices reflect your personality and beliefs. By choosing Nina Woof's Airtag dog collar, you are choosing more than just a stylish accessory. You are choosing to be a responsible, tech-savvy pet parent who values quality, sustainability, and style.
Step Up Your Pet Parenting Game with Nina Woof
The advent of Airtag technology in pet care has redefined what it means to be a responsible pet parent. With Nina Woof's Airtag dog collar, you don't have to compromise style for safety. They are designed for dog owners who are conscious about their choices, believe in sustainable living, and have a taste for the finer things in life.
Our vegan leather collars and leashes are not only durable but also incredibly chic. Available in various colors, they can be matched with any of your outfits or your pet's moods!
As an eco-conscious brand, we also offer top eco-friendly alternatives for waste bags, and provide insights into dog park etiquette and how to choose the right collar or harness for your beloved pet.
Elevate your pet parenting game with Nina Woof. Choose smart, choose stylish, choose responsible.
Remember, it's not just about owning a pet; it's about raising a pet with love, care, and responsibility. At Nina Woof, we make that journey a little easier and a lot more stylish for you.
FAQ
How does the Airtag work within the dog's collar? The Airtag within the dog's collar sends out a secure Bluetooth signal that can be detected by nearby Apple devices in the Find My network. When these devices detect the signal, they send the Airtag's location back to Apple, which then relays the information to your device. This functionality allows you to always track your pet's location using the Find My app on your Apple device.

What makes the Airtag collar a good choice for pet parents? The Airtag collar offers pet parents ease of tracking their pets. If a pet gets lost, the owner can quickly locate them on a map using the 'Find My' app on their iPhone. Additionally, these collars are designed to be stylish, comfortable, and durable, ensuring your pet is not burdened by the weight of the Airtag. They also integrate seamlessly with the Apple ecosystem, making the setup and usage incredibly easy and convenient.

How is the Airtag attached to my pet's collar? The Airtag is securely placed in the pet's collar dedicated holder. Brands like Nina Woof have designed their collars to ensure the Airtag is securely in place and stays there, even when the dog is playing and running around.

How does the Airtag holder on the collar maintain the functionality of the Airtag? The Airtag holder is designed to keep the Airtag secure and in place, ensuring that it remains functional and can still send out its Bluetooth signal. The holder allows the Airtag to be securely fastened to the collar, preventing it from falling off during your pet's activities.

Why are Airtag holders important in pet collars? Airtag holders in pet collars are crucial for the functionality of the Airtag. They keep the Airtag secure and prevent it from being lost during a pet's activities. Furthermore, by ensuring that the Airtag remains securely in place, the holder ensures that the Airtag can continuously send out its Bluetooth signal, thereby always allowing you to track your pet's location.
---