What To Do if You Think Your Dog is Missing or Lost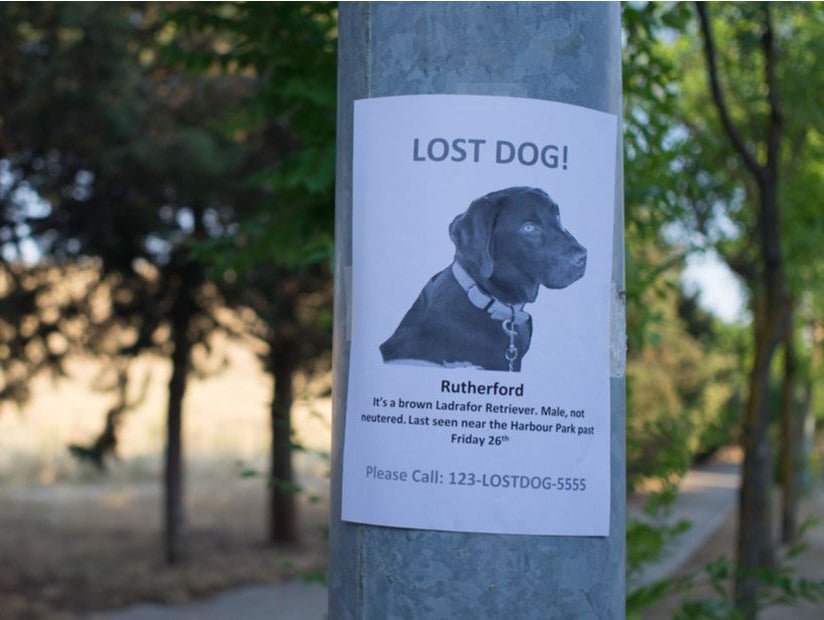 Missing pets can be both a nuisance and a big worry for their owners. Read on to find out what you should do if you think your dog is missing or lost. 
How Do You Find Your Dog if it's Missing?
If your pet is missing, you may be overcome with emotion, hoping to find them as soon as possible. Try to keep calm, even in this stressful situation, so that you can think logically and sensibly about where your pet might be.
Within the first few hours of your dog going missing…
Here's what you need to do if you've just realised that your dog is lost or missing. Firstly, consider how they went missing, use any location device you have, gather useful items for your search, ask around in your local area, and flag your pet's microchip.
1.    
Consider how they went missing
Firstly, you must try to remain calm and consider how your pet went missing.
Did they run off when on a walk in the park?

Did they escape through an unlocked gate or a hole in the fence?

Did they get spooked by a loud noise and run through a gap in the hedge?
Getting to the bottom of why your pet is missing can give helpful clues as to where they may be now. Finding evidence of an open gate or a hole under a fence may let you know which direction your dog has run off in.
2.    
Use a location device to track your dog's position
One of the most helpful ways to locate your pet is with a location device such as an AirTag or Tile Mate. Simply slot your location device into the AirTag holder in your Nina Woof vegan leather dog collar to give you peace of mind. These devices will tell you how far away your pet is from you, and may be able to sound an alarm that tells you or your neighbours that your dog is near.
If you don't yet have a location device on your dog's collar, or your dog happens to be out of range, then go ahead to the next step.
3.    
Gather useful items
The next step is to gather useful items for your search. This will include some clear photos of your dog that you can show to neighbours, and a dog whistle so that you can get the attention of your dog if it is nearby. Additionally, it will be useful to take some dog treats with you, and a dog toy too.
You'll need a dog leash to take them home once you've found them, and some compostable dog waste bags for if they've made a mess! You may also want to take a torch so that you can look inside hedgerows if you think your dog may be hiding somewhere.
4.    
Ask your neighbours
Next, you'll need to take a walk around your local area and speak to neighbours and shop owners to see if they've seen your dog. This is a very useful way to gather clues about which direction your dog is heading in, and how you can get them back.
5.    
Flag your dog's microchip
At this stage it may also be useful to flag your dog's microchip to alert the relevant people that your dog is missing. This means that anyone who finds your dog will know that you're their owner, and will be able to get in contact with you.
Within the first few days of your dog going missing…
It's unfortunate that sometimes dogs are missing for more than just a few hours. If you aren't able to find your dog within 24 hours or so, you should contact your vet to make them aware of the situation. Your vet practise may have information about local lost dogs that will help you in your search. You should also consider making some flyers with a big photo of your pet and a description, including a description of the dog collar they are wearing.
At this time, you should also contact local animal rescue centres to see if anyone has brought your dog in. You may also want to post a photo on social media alerting your friends and followers to the situation, and asking everyone to keep their eye out.
Looking for a stylish new dog collar or leash for your pet? Check out Nina Woof's new range of premium sustainable pet supplies, with brand new colours available.
---