DISCOVER LUXURY DOG ACCESSORIES FOR YOUR BEST FRIEND
Spoil your dog, not the planet
Elevate Every Bark with Luxury Dog Accessories

Welcome to Nina Woof, where we redefine luxury for your cherished companion. We're not just a brand; we're a passionate community of pet lovers dedicated to crafting premium eco-friendly leather dog accessories. Our commitment is simple: exceptional quality, stunning design, and unwavering love for your pet.

Discover our product categories
Sustainable Elegance with Premium Dog Accessories

Welcome to Nina Woof. Every stitch, every design, every choice - relentlessly driven by our motto to "do better." For your furry friend, for you, and for our planet. Dive into a world where luxury is crafted with eco-friendly vegan leather, where elegance meets responsibility.

With Nina Woof, spoil your dog, not the planet.

Our Most Popular Picks

Explore our handpicked selection of best-selling dog accessories, adored by pet owners who appreciate the finer things in life.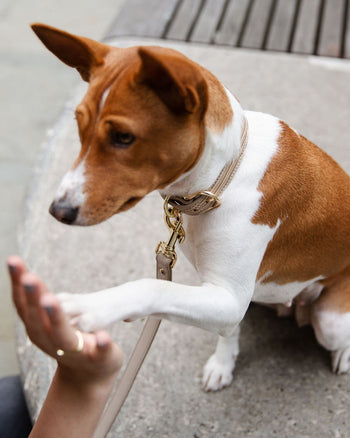 Our Journey: Crafting Eco-Friendly Elegance with Love
Our journey began with a simple yet powerful idea - to create premium dog accessories that mirror our love for animals, our dedication to elegant design, and our unwavering commitment to the environment.
Nina Woof isn't just a brand; it's a heartfelt mission to redefine luxury for your furry companions. Inspired by the bond between pets and their owners, we pour love into every detail of our products. We believe in a world where pets can enjoy the finest in eco-friendly elegance. At Nina Woof, our story is one of passion, compassion, and an enduring love for our four-legged friends. Join us in celebrating the unique bond you share with your pet through the artistry of Nina Woof.
Our Commitment to Sustainability
Every Nina Woof creation is a testament to our commitment—crafted with respect for the planet and adorned with responsible cruelty-free leather. Elevate your pet's style with a clear conscience. We stand proudly behind the quality of our products. Your satisfaction is our promise, and if you're not delighted, we offer a satisfaction guarantee for your peace of mind.
Discover what our Beloved Customers say
This is my favorite dog collar ever!!!! My 17-year dog has never experienced this type of luxury! I've had it for about 3 months now and it's still in superb condition. I loved it so much I had to buy more in differentcolors especially since they also make matching dog leashes. These make great gifts for any dog lover since they come in extremely cute packaging <3 There attention to detail is incredible!
Milan Collar - Size M
This is a really nice vegan leather dog collar, meaning that the leather is fake. I'm fine with a fake leather collar. I needed something that would work well for my dog since he is rough on collars, and this one looks like it will fit the ticket. It seems to be sized correctly and arrives in fancy cardboard cylinder packaging. I'm not sure how well this will hold up, but it certainly looks expensive. It is a bit pricey for fake leather since I think you're also paying for the upgraded packaging.
Copenhagen Collar - L
I received the necklace just two days ago and I am happy. it is well
designed, beautiful and elegant. the packaging is very suggestive. I like that it's not skin. I can't say anything about durability yet. I
hope it is strong and lasts. It fits the size, I had to return the first one I bought size S and buy an XS for my puppy
London Collar - S